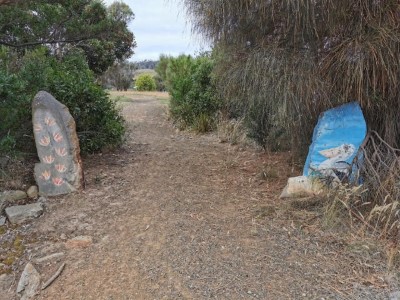 photo by Maggie Mars, 08/02/2022
Pelican Walk Reserve
Step over to the other side of the road from the Triabunna Boat Harbour and you are in another world. Leaving the hustle and bustle of the Maria Island Ferry Terminal and boating facilities, there awaits a tranquil linear parkland with outstanding views across Vicarys Rivulet Estuary, brooding forest nestled along the opposite shores and a chance of seeing iconic birdlife.
Not far along the walking track from the bridge, there is an area of heathland and native grasses that has been protected from the grass mowers. In springtime, this protected corner reveals the delicate wild flowers indigenous to this part of the east coast. They begin to burst forth in early spring and many different flowers and even orchids continue to appear right through to the summer months before the heat dries out the soil.
Following the track along the estuary banks, you come across remnants of indigenous vegetation that protects the slopes from erosion and provides habitat for small birds and animals. Weeding and planting efforts by the Council and Friends of Triabunna Reserves are ongoing along here to enhance this lineal Reserve. Views across the tidal estuary reveals the riparian forest that has survived over in the Pelican Park Reserve that creates a sense of unspoilt countryside on the edge of the township. This walk is more or less the town boundary on this side of the bridge and provides an easy retreat from the streets.
There is always birdlife to be discovered along this Reserve with pied oystercatchers frequenting the shoreline near the blackwater facility over the bridge. White faced herons stalk the edges of the water at low tide and pied cormorants, teal and black ducks are regular visitors. This water outlook from the Reserve often lives up to its name as a pelican or two can be spied floating gracefully about the estuary. Swans visit to seek out their aquatic food and a lone sea eagle will occasionally soar over this precinct.
Good signage detailing what this habitat means to this part of the coast is located in several spots along the walks and a few seats to rest awhile to take it all in have been provided in the best viewing points. The large open grassed areas along the Pelican Point Reserve also allow it to be dog friendly and a great area for both on lead and off lead dogs under supervision.

---
Pelican Walk Reserve Map