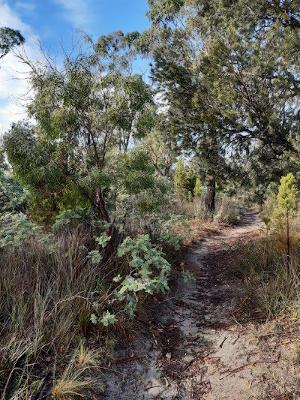 Ada St Reserve Track, 08/11/2021
Ada Street Reserve
Ada Street Reserve can put on quite a show. As you enter the depths of this well timbered bushland in springtime, a startling display of wildflowers will greet you. The biggest surprise last spring was the abundance of tiger orchids scattered through the grassland areas. After the good winter and spring rains, healthy clusters of very colourful bright yellow and brown flowers were standing tall and erect wherever you looked. It was a real spectacle.

Mingling amongst the orchids were a wide variety of wildflowers ranging from bluebells, goodenias, heaths, various native pea flowers and bright blue love creepers to tiny native violets and sundews. Later in the season the native grasses rose up and produced a swathe of waving flower heads in many areas of the Reserve.

This hilltop bushland Reserve is large and commands some pleasant views of the waters of SpringBay as you reach its western boundary. Its size also creates a feeling of being removed from the surrounding built up streets. There is a definite bushland atmosphere amongst its greenery and at different times of the year the changes in birdlife and the seasonal flowering of the bushes, trees and ground plants always makes it an interesting place to explore. Peace and seclusion is easy to sink into when you step into this natural and precious patch of nature surviving right within the township.
Photos by Rob Kelly
---
Art inspired by Ada Street Reserve
---
Ada Street Reserve Map