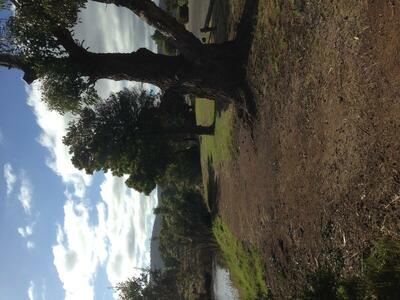 MacLaines Estuary Reserve
This is a suburban walk by Triabunna standards. Many locals use this foreshore track for health and fitness. It holds significant cultural and natural heritage attraction, in addition to morphing into the Dead Island Track with the Coffee Van, Fish Van and Spring Bay Hotel at the wharf end.

An unhurried stroll is rewarding no matter how often you do it. The vista across Spring Bay is ever changing, crisscrossed by the Maria Island ferry, pleasure craft and fishing boats. Closer to shore, the antics of the seabirds are a pleasure to watch and hear. Tide changes hide and reveal. And there is the gentle lapping of the water.

Many visitors walk out from the wharf area but, if you have time, there is easy parking at The Gatehouse at the southern entry to Triabunna. Have a look around to note some of the plants indigenous to the area. There are also toilets there. Then carefully cross Vicary Street to the RSL building. Triabunna RSL members maintain the parklike area at the back.
A little further on Esplanade West, you will notice a small bridge which leads to a sometimes overgrown track around a small headland. This used to be the BMX track and is sometimes still in use, depending on the local kids' enthusiasm for bikes. It is an ideal place to view saltmarsh plants with a woodland backdrop. The path leads to another small bridge on which it is restful to hear and see the waters with the change of the tide. Sometimes fish are visible too. This short loop exits at the start of the Dead Island Track.

The foreshore plantings arise from National Tree Day projects with students from Triabunna District School, council staff and Friends of Triabunna Reserves involved. It is interesting to note the pattern of growth over the past three years. The plants add to the beauty of the area and reduce the amount of litter that blows into the estuary. This is an important breeding area for fish and birds so we want to maintain a healthy environment. Rare Baudin's Sea-lavender (Limonium baudinii) is found on the land in the estuary. Another precious asset.
Photos taken 11/01/2022
---
MacLaines Estuary Reserve Map