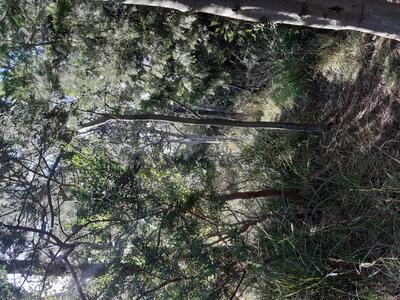 Barton Avenue Reserve - One Tree Point to Tasman Highway
The trail along this coastal Reserve is in contrast with the walk in the other direction from One Tree Point to the Eastcoaster. A narrow track weaves its way through bushland as you leave the open outlook at One Tree Point. A pleasant mix of vegetation shades the pathway; she-oaks, native cherry trees, oyster bay pines, various wattles and gnarled eucalypts are spread along this strip of land that provides inviting glimpses of Spring Bay and the township of Triabunna in the distance.

Not a lot of weeds have taken hold, but as you emerge from this pleasant trail you come out onto well mown open grasslands and very open country. The coastal verge supports some remnants of native vegetation comprising tussocks and saltbush, although, most of this section of the Reserve has been cleared right up to the creek running under the Tasman Highway. A few beautiful old bluegums have survived and grace the foreshore. Clear views of the bay across to Triabunna make for a pleasant outlook, however, it appears some people prefer the lawns as some of the residential properties have extended mown grass into this stretch. There is evidence of attempts to poison trees and the tops of bushes are being lopped off to improve the view in some spots.

When you reach the creek near the Highway, some big tall bluegums line the banks and a lovely remnant of salt marsh plants and poa grasses have survived here as the creek seeps out into the Bay. Small schools of fish can be spotted in the deeper pools. This last corner is a pleasant place few people would visit and is protected by the rough country lining the edge of the Highway below the bridge. Overall, it is a pleasant walk through this Reserve but a large portion of it offers little in the way of native vegetation, and bird life is sparse.
Photos by Rob Kelly, January 2022
---
Barton Av West Reserve Map