Friends of Triabunna Reserves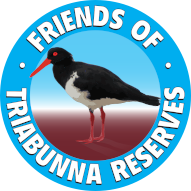 The Friends of Triabunna Reserves group was formed in 2017 with the encouragement and support of the Natural Resource Management (NRM) team of Glamorgan Spring Bay Council. The NRM department consisted of staff with expertise and commitment. We miss their guidance and knowledge.

Friends of Triabunna Reserves' purpose is to undertake activities such as
weed control
revegetation
rubbish collection
on Council and Crown Reserves within the Triabunna township.

We work collaboratively with Crown Land Services, Council, local business and the general community to ensure our reserves are well managed for current and future generations.

We welcome the opportunity to connect with the local community to hear their thoughts, ideas, and concerns about our fabulous public reserves. We then in turn aim to provide educational opportunities for the local community and schools to learn more about those reserves.
For more information please contact chairperson
Maggie Mars
0417 342 031
maggiemyfanwy@gmail.com