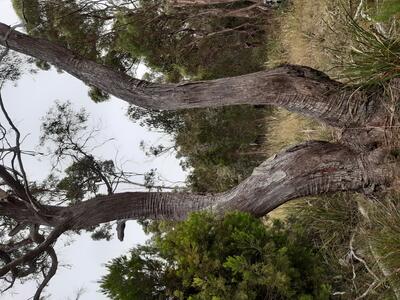 Photo by Rob Kelly
Triabunna Reserves
There are nine distinctive coastal and bushland reserves to be found within the township of Triabunna. The natural and historical aspects of these reserves are valuable assets that are important to protect, manage and value for today and for future generations. They are the home for many native plants, animals, birds and insects, some becoming rarer as more land is developed. Their existence makes Triabunna a special place of interest as well as enhancing the beauty and diversity of its surrounds.

A group of local volunteers known as the Friends of Triabunna Reserves regularly dedicate their time and effort to help maintain and enhance these reserves.

This website is where stories, photos, observations and records of these Triabunna natural reserves and their wildlife can be showcased and appreciated.

Glamorgan Spring Bay Council - Triabunna Area Reserves, Native Flora and Fauna Management Plan 2014 – 2019
Linking The Reserves
All the bush and coastal Reserves in and around the township of Triabunna are not far removed from each other. There are connections between each separate parcel of land. Our Map of the Reserves below showing the nine Reserves helps indicate these links, some with distinct corridors, while others with more tenuous connections, and yet they provide suitable habitat by which many birds, insects, mammals and reptiles can expand their movement to find adequate food, shelter and breeding environments.

The impact of these connections is particularly important around the bayside as they provide continuity for the wildlife that rely on and greatly prefer these unique environments. A good example are the pied oystercatchers who need both rocky foreshores and sandy habitat for food and nesting. A decent area for their protection and foraging along the foreshore can assist in maintaining their long term presence and survival in the region.

Bush birds thrive where the native vegetation and tree cover is extensive and the smaller birds such as honeyeaters, thorn bills, pardalotes and blue wrens can fly safely through the bushland to find food, nesting sites and safety from predators. Small separate reserves can limit suitable habitat for their needs. A chance to travel in a continuous way to other similar environments close by can improve their chances of survival and increase their numbers.

Links to the bushland behind the coastal fringe reserves also offers a passageway for mammals and reptiles to expand their range as well as creating an opportunity for more native vegetation to generate into other areas and help preserve more diversity of species in our environment. Walking tracks connecting our Reserves also increases the enjoyment of visitation and improved access to these different habitats, highlight the different types of vegetation and wildlife that exists within the township.

Efforts to improve these links are an ongoing quest that the Glamorgan Spring Bay Council, Parks and Wildlife Service, the Department of Natural Resources and Environment and the Friends of Triabunna Reserves can help to pursue to potentially increase the preservation and protection of our valuable natural assets for the very long term. A good example of how such links enhance the existing Reserve system is to be found at the Ada Street Reserve that is linked by a narrow pathway to the coastal East Esplanade Reserve that leads to Deep Water Jetty. This well established connection provides a continuity for wildlife and humans to travel within the broader habitat that is available within these environments.

---
Map of the Reserves
Click on a reserve label to see more information about that reserve
or click here to see a more detailed map